Our Team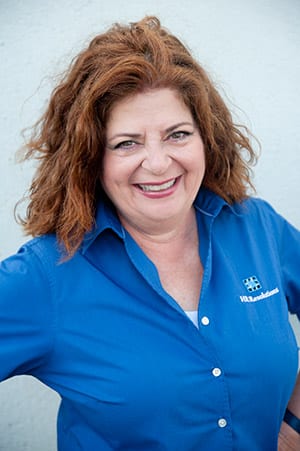 Karen Young, SPHR, SHRM-SCP
President
Karen A. Young has made a career of going the extra mile for the people she serves, inspiring others to always do what is right (even when it's not always easy), and finding joy and FUN in the practice of human resources. Karen is the founder and president of HR Resolutions, a full-service human resources management company, where she and her team help clients — in a variety of industries and in organizations of all sizes — lower their HR costs, increase their bottom lines, and balance the needs and goals of the business within the ever-changing rules and regulations of HR management.
With over 30 years of experience in the human resources profession, Karen has faced many personnel issues. Her recommendations in addressing problems have saved thousands of dollars by cutting HR costs and increasing the bottom line by improving workplace culture, developing solid job descriptions, and training managers on effective communication practices. She says, "When the HR pieces are falling into place, a business starts to run like a well-oiled machine."
Karen is a sought-after speaker, trainer, and consultant best known for her public and private training programs on unlawful harassment, interviewing, and how to improve communication in the workplace. She is well-regarded as a business partner with an unflagging work ethic and a passion for helping business leaders say "yes" to their people by better understanding the risks and rewards of running a business where leaders can focus on what they need to accomplish … all within a thoughtful HR framework. During the COVID-19 pandemic that affected businesses adversely, Young provided a series of complimentary webinars to help business owners get through tough times and adapt to changing legislation.
Adding to her talents, this passionate HR professional successfully launched the second edition of "Stop Knocking on my Door: Drama-Free HR to Help Grow Your Business" in 2020. The book debuted as a Hot New Release in HR (Amazon's largest business category) and three top seller lists on Amazon!
A leader in the business community, with a reputation of both positivity and integrity, Karen was recognized as one of Pennsylvania's Best 50 Women in Business by the PA Department of Community and Economic Development, "HR Consultant of the Year" nominee at the SHRM Delaware Valley HR Chapter, Central Penn Business Journal's Women of Influence, and is a nominee for the Woman of the Year Award from Business Women's Forum (2020).
Karen holds a Bachelor of Science in Business Administration and Psychology from Lebanon Valley College and a Master of Arts in Industrial Relations from Saint Francis University. She also holds certificates in Strategic HR Management from both The Wharton School of Business and Cornell University. With diversity being an ongoing focus for many businesses, she achieved her Certification in Diversity and Inclusion from Cornell University in 2020. Karen is professionally certified by the HR Certification Institute as a Senior Professional in Human Resources (SPHR) as well as the Society for Human Resource Managers as a Senior Certified Professional (SHRM-SCP.) Continuing professional education is a passion for her.
She lives in Harrisburg, PA with her husband and retired racing greyhounds. Karen is an active member of the Harrisburg Regional Chamber and CREDC (past two-term Board Member and current Co-Chair of the Ambassador Committee), the PA Chamber of Business and Industry (currently serving on both the Employment Committee and the Workers' Compensation Committee), and HR Professionals of Central PA (Past President and future Foundations Board Member). Karen and Barry personally support various non-profits in the South-Central PA Market as well as several national greyhound adoption programs.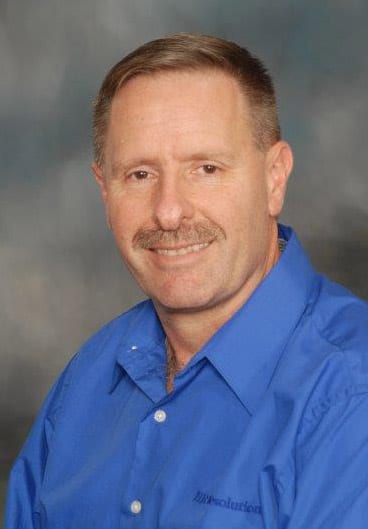 Barry Young
Vice President Operations
Barry brings over 35 years' Employee Relations, Distribution and Transportation experience to the Team. Having most recently served as Safety Manager for NAPA Transportation, he will be responsible for client safety programs and training as well as any of our Department of Transportation regulatory updates and record keeping. He has worked in union and union free environments and recognizes the need to effectively communicate, educate and develop employees in order to improve operational efficiencies. He will also be responsible for managing our HR Help Desk.
Barry holds a Master of Arts Degree in Human Resource Management from St. Francis University as well as an undergraduate degree in Accounting from Penn State University. He is an active member of the Pennsylvania Motor Truck Association. In his spare time, Barry enjoys spending time with his grandsons.
"I am thrilled to be working with Barry as HR Resolutions continues to grow and provide even more services to our clients in the Harrisburg area and beyond. His work ethic and understanding of client service further advances our values as an organization" says Karen Young of our newest team member.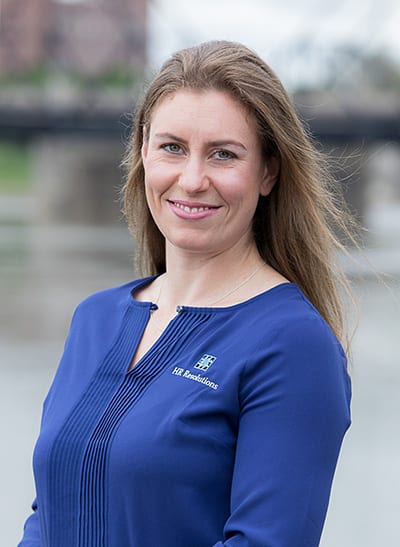 Melissa Pattison, SHRM-CP
HR Manager
Melissa joins HR Resolutions with 5 years of experience in the industry. Melissa will provide both ongoing administrative support within the office, as well as on-site client support as necessary. With her broad knowledge of HR administration concepts, Melissa is excited to round out the team of professionals at HR Resolutions who hold HR management to a higher standard.
Melissa graduated from Susquehanna University with a Bachelor's Degree in Psychology. She is highly active with the Harrisburg Rugby club, and serves as the women's Player Representative. Additionally, Melissa enjoys volunteering at a local horse rescue and taking her dog for long runs (although the dog, inevitably, is the one running her).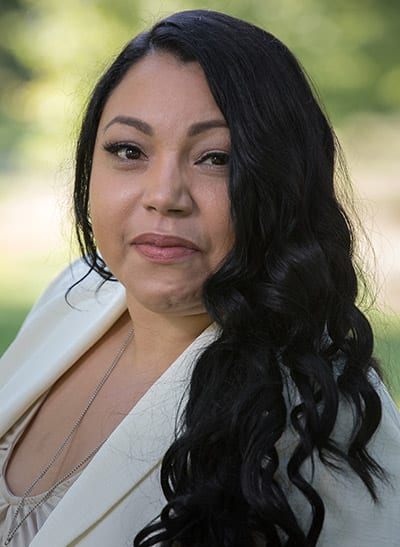 Jessica Wingfield
HR Manager
Jessica joins HR Resolutions with over 20 years of experience in the Human Resources industry. Jessica's experience in supporting organizations as a well-rounded human resources professional positions her to support any HR inquiry or task will be a tremendous asset to the organization. Her flair for implementing solutions to increase employee engagement and improve processes utilizing existing tools, without increasing budgets, will be instrumental in serving the firm's clients.
Experienced in both administering human resources related tasks and establishing HR programs such as policies, benefits and record keeping, will be of great value to HR Resolutions. She is very passionate about anything HR related and really enjoys learning more about the industry and is very excited to work for HR Resolutions founder, Karen Young.
Jessica holds various professional certifications, including Certified Microsoft Office Specialist, allowing her to utilize advanced MS Excel functionalities to automate record keeping systems saving business owners precious internal resources.
She is enrolled in Southern New Hampshire University in which she is scheduled to graduate with a bachelor's degree in Human Resources Management in 2021 and is simultaneously studying for her SHRM certification in which she is expected to earn later this year.
Jessica is an active volunteer in the Zion Assembly of Harrisburg and serves as both the Communications Director and Childrens Director for the church.
She loves reading Jodi Picoult novels in her spare time and studies Chinese historical dramas. Jessica is an animal lover and enjoys posting pictures of her pets to social media accounts and shopping for toys and accessories for them.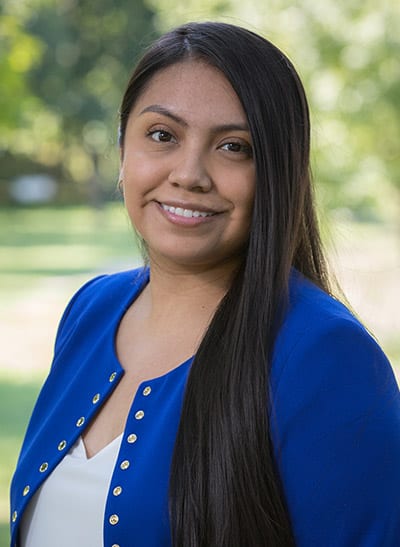 Cristal Perez-Rodriguez
Human Resource Manager
Cristal joins HR Resolutions with a Master of Science in Organizational Development from Abilene Christian University (Abilene, Texas). A bit of an overachiever, she is the youngest person to complete this graduate program from Abilene.
Cristal's broad HR experience includes internships, payroll, onboarding, offboarding, and benefits, making her a well-rounded HR professional. Her positive attitude allows her to reach her goal of creating a thriving work environment, supporting an organization's biggest asset, its employees.
Cristal has worked for a major technology company (Aspire Ventures) and one of the largest retail establishments (Target). Her experience will allow her to provide innovative solutions to the clients of HR Resolutions.
The past four years, Cristal has volunteered with Junior Achievement in both York City and Lancaster County schools, helping students learn about opportunities post-high school which include exploring trade schools, job shadowing, and applying to college. She is a volunteer for Habitat for Humanity.
Cristal is currently studying for her SHRM certification.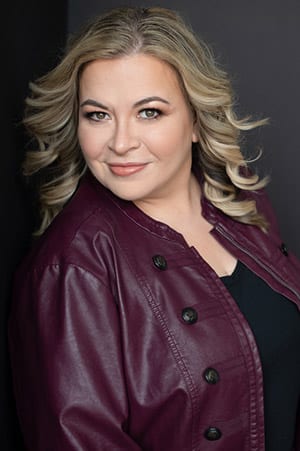 Maria Diaz
Executive Assistant
Maria Diaz is an experienced Executive Assistant in the Human Resources industry bringing her passions for project management and organization to HR Resolutions. Maria is bilingual, fluent in both English and Spanish. She will provide administrative support to Founder, Karen Young, and the firm.
Maria studied Human Resources Management at Concordia University and has lived and worked all over the United States.
She was featured on NBC's "George to the Rescue" in 2019 providing organizational support to a family struggling with loss.
She is an active thespian playing powerful roles such as Mary Magdalene in Jesus Christ Superstar. Maria is very active in the Hispanic business community and enjoys organizing events.
---
Our Support Staff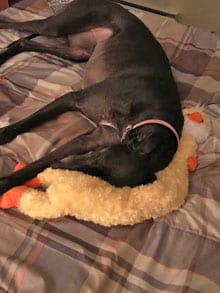 Willow Young
The eldest of the Young's, Willow "Kelso's Devilment" Young, was adopted through Make Peace with Animals. Mom continues to explain her antics as "but she's only 7" to which Dad replies – "You'll still be saying that when she's 10!" Willow is the Director of Security and Nap Time and it's very difficult keeping track of all the activity in multiple offices.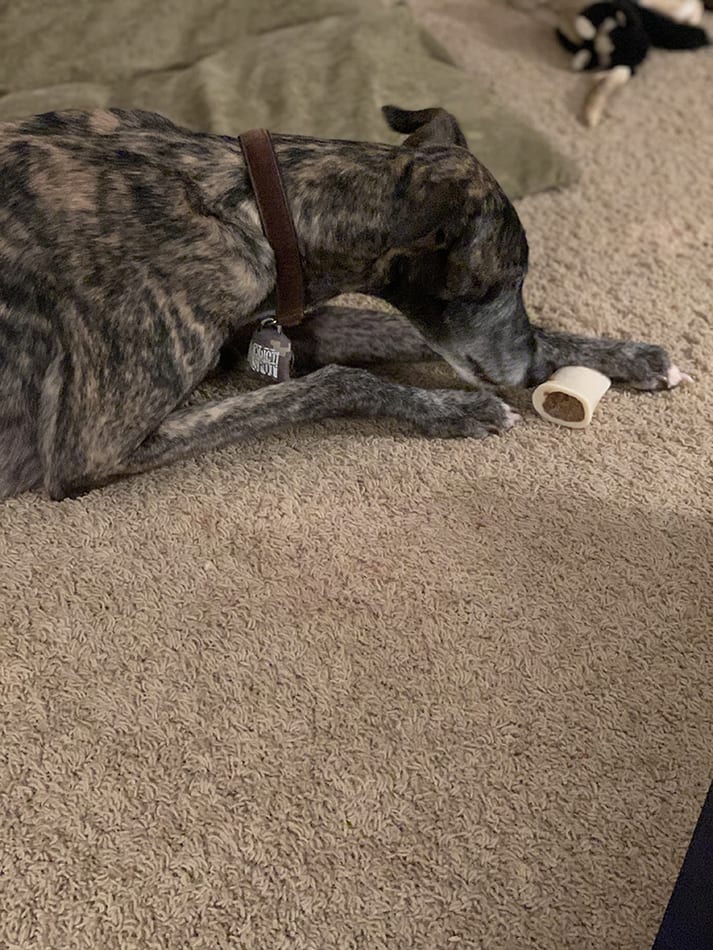 Eugene Young
The newest support staff member, Penrose Eugene, was adopted through Nittany Greyhounds. Eugene is responsible for Quality Control and Taste Testing as is obvious through almost all of his pictures! Eugene violates many HR rules because he is a hugger – our first that physically hugs Mommy and Daddyman.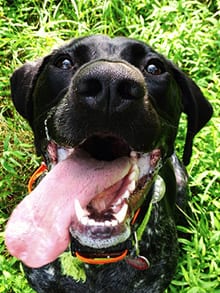 Remi Packer
Remi Rebel Nubbin (AKA Remi), a purebred German Shorthair Pointer, was brought home from a small breeder located in Lewisburg, PA. In her free time, Remi enjoys training her humans to throw Frisbees soaked enough slobber to hydrate half the backyard, as well as gallivanting around with her two pygmy goat sisters (who, more often than not, want nothing to do with her.) As Director of Canine Affairs, Remi is responsible for the cuteness factor of the Support Team.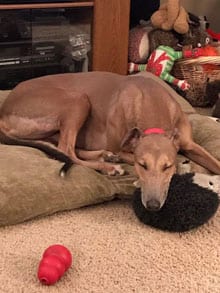 Copper Young (Emeritus)
6/4/2014 – 11/29/2019
Copper "Craigie Coldshot" was adopted through Make Peace with Animals and took over the reins of being the wild child in the office. Copper was appointed Director of Party Time as you can tell by his picture – he was a flurry of activity. (This picture was from his FIRST DAY in our house!)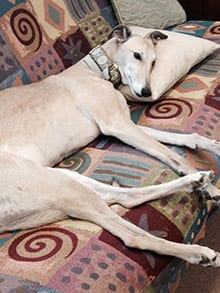 Dusty Young (Emeritus)
1/1/2006 – 12/25/2017
The fifth child of the Young's, Dusty "Indiper" Young was adopted through the Humane Society of the Harrisburg Area after a few years off the track. As the eldest of the pack, Dusty was appointed Director of Security and Nap Time. She ensured that everyone received sufficient breaks in order to stay fresh for the next round of snacks.